How old strips and the internet aid comics industry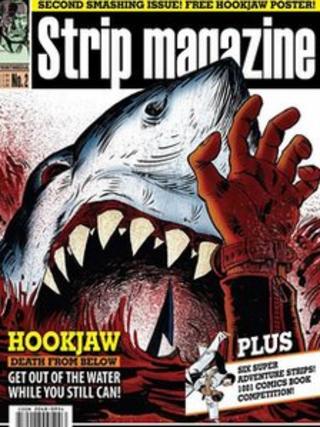 A demand for nostalgic items and new technology have boosted the comic book industry, industry chiefs say.
UK comic Strip Magazine has republished 1970s killer shark strip Hook Jaw while in the US Image Comics is bringing back its 1990s character Glory.
Stories are also being offered increasingly online and as apps for smartphones and tablets.
But the internet has also played a role in the downfall of some magazines, those in the industry said.
One comic book writer said the industry was experiencing both exciting and worrying times.
Reviving and revamping old strips and well-known characters have been among actions publishers have taken to combat falling sales and also grab the attention of new readers.
Richmond Clements, an organiser of Highlands comic convention Hi-Ex, said artists, writers and publishers were being creative in their dealings with hard times.
He said: "Comic sales have been declining for quite a while, but in 2011, US comic sales got a shot in the arm with a bold move from DC comics.
"They re-launched their entire range from issue one again. It seems to have gone down well, with quite a few issues selling out and going to reprint."
Mr Clements, who also writes for comic books and graphic novels, added: "The industry is having to adapt to changes, utilise new technologies and think about new audiences.
"The traditional comic fan can be reluctant to change, but a whole new generation is growing up through exposure via comic-related games and film franchises.
"With the financial pressures on publishers and independent retailers we have seen a few go under and many struggling.
'Exciting time'
"Many business models are being tried and tested now, including crowdsourcing funds to publish books and on demand printing.
"Lots of innovative comics projects are happening as we are no longer tied to the tried and tested format. It is an exciting time, but worrying as it is harder and harder for comics retailers and creators to make ends meet."
In the UK, two new comics have emerged to join long established titles such as 2000AD, The Beano and Commando.
Commando - the UK's last surviving war comic and published by Dundee-based DC Thomson & Co - celebrated its 50th anniversary last year.
The first edition of The Phoenix by the Oxford publisher David Fickling Books was launched in January, while Strip Magazine came out for the first time in October last year.
Strip Magazine is published by Print Media Productions, a Lancaster-based company formed by Ivo Milicevic, who has been publishing comics in Bosnia and Croatia for 20 years.
Editor John Freeman said the magazine recalled the kind of British comic writing and art of 40 years ago.
He said: "It joins 2000AD, Commando, CLiNT and Judge Dredd Magazine on the news-stand as the kind of originated comic that flourished in the 1970s and '80s."
Mr Freeman added: "Our publisher knew Hook Jaw and the comic it appeared in, Action, caused a bit of a storm when it was published in the 1970s.
"It's also fondly remembered by dads.
"As editor, when I read it again, I thought the theme of corporate greed that runs through the story was more horrific than Hook Jaw's passion for eating people - and as relevant today as back then."
Strip Magazine's staff devised a tactic for how best to market the publication.
Mr Freeman said: "We deliberately launched through UK comic shops, so distribution is currently limited, because getting your magazine onto the news-stand is expensive.
"But we've learnt a lot of lessons and are now on course for a news-stand launch in May."
He added: "Every media is taking a hammering in a recession but at the same time, when people are a bit down, I've heard that interest in fantasy and escapism rises."
Gary Davis, owner of Inverness comic store Heroes for Sale, said the internet had challenged the industry as well as offer it opportunities.
He said: "People expect what they get from the internet - albums, films and comics - to be free."
One publisher, Tokyopop, had found its Manga strips were being copied and uploaded onto the internet without its consent before the comics reached UK markets, Mr Davis said.
The internet may also have played a part in the downfall of Wizard, a long-established magazine for comic book readers.
Mr Davis said that often stories, gossip and sneak previews Wizard carried had been told online before the magazine could print them.
Financial crises have also influenced comic book and graphic novel stories.
Mr Davis said: "Marvel's Fear Itself reflected totally the problems that affected America - people losing their homes, no jobs.
"There was no holding back. It really went for the jugular of America.
"It was one of the most socially aware comics for quite a while."