Avalanche service images record changing winter weather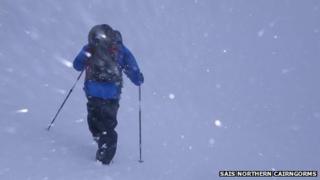 Avalanche forecasters have captured images recording starkly different weather conditions in Scotland's mountains so far this winter.
In December, heavy snowfalls were followed by rain and high winds which led to a thaw in some parts.
This month, the Sportscotland Avalanche Information Service (SAIS) has taken photographs in freezing conditions.
Fresh snow on high ground was expected on Thursday as the winter weather takes another twist.
The Met Office has issued a yellow "be aware" alert for parts of the Highlands, Moray, Aberdeenshire and Tayside.
Last winter, the majority of images gathered by SAIS teams showed snow and ice following prolonged wintry conditions.
The latest series of SAIS photographs published in a BBC Scotland news website picture gallery show swollen burns, rime ice, blizzards and mountainsides with almost no snow cover.
SAIS forecasts are provided for Creag Meagaidh, Glencoe, Lochaber, Northern Cairngorms and Southern Cairngorms.
The mix of heavy snow, fluctuating temperatures and high winds has also been felt by the ski industry.
'More snow'
Heather Negus, marketing manager at Nevis Range, said: "We had a great early start to the season and when we opened in December some areas of Aonach Mor had more snow than they had all last season.
"Recent winds and fluctuating temperatures have affected the skiing on offer, as well as the numbers of skiers and boarders out and about.
"But last weekend when we operated our three main tows, customers could ski from the summit to almost the bottom of the Goose T-bar, and that's a distance of about 1.5km."
She added: "The temperatures are now falling and the forecast for the next couple of days is for more snow, so our customers should keep watching the webcams and the websites for this snow that is forecast."
Earlier this month, Lochaber-based professional climber Dave MacLeod spoke of disappointing winter conditions for climbing.
He wrote on his blog on 11 January: "I can't believe two months had passed without climbing outdoors on rock in Scotland.
"I can't remember the weather being so unhelpful during the winter for several years.
"Lochaber has just been hammered with rain and gales and it seems my options for getting on projects have been basically nil."
The weather was also believed to be behind record numbers of whooper swans and greylag geese arriving at RSPB Scotland's Insh Marshes reserve in Strathspey.
Warden Pete Moore said that in his 12 years at the site he had never seen so many of the birds.
He said: "In the last couple of days we have recorded 211 whooper swans and no fewer than 1,138 greylag geese. That's an awfully large number of birds.
"This winter has been very good for wildfowl generally with unusually high numbers of other species such as white-fronted geese and bean geese visiting the area.
"It may be due to a succession of easterly weather fronts moving through."