Personal locator beacons cleared for use on land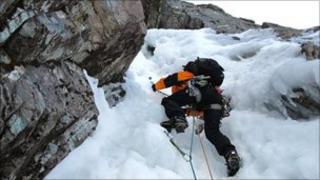 Devices that could help the emergency services track down missing climbers and hillwalkers are now legal to use on land for the first time.
Personal locator beacons (PLBs) have previously been restricted for use at sea and by aircraft crews.
The change in law has been welcomed by police.
Mountaineering Council of Scotland safety advisor Heather Morning said lives could potentially be saved, but has urged responsible use of PLBs.
The Maritime and Coastguard Agency (MCA) regulates the use of the beacons at sea.
More than 16,000 PLB devices have already been registered for civilian boat and aircraft use within the UK.
'Necessary protocols'
The UK Rescue Co-ordination Centre at Kinloss will play a key role in using the same technology to direct mountain rescuers.
Northern Constabulary's Andy Cowie, lead officer on search and rescue at the Association of Chief Police Officers in Scotland, said UK police forces were prepared for PLB use on land.
DCC Cowie said: "The police service has been at the forefront throughout 2010-11 in planning these changes and colleagues in police forces across the UK are fully aware of the changes in legislation.
"We have worked with the Ministry of Defence, the Maritime and Coastguard Agency, the Department for Transport and Ofcom to get the necessary protocols in place to deal effectively with a PLB activation."
Police said there were potential benefits for forestry workers, estate workers, service engineers as well as people involved in outdoor pursuits.