Key date for search and rescue helicopter bidders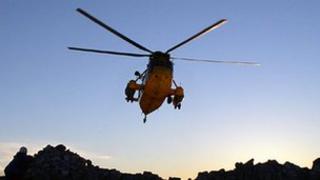 The UK government's process of finding a contractor to take over military search and rescue duties has reached a key date.
The RAF and Royal Navy are expected to give up providing the cover by 2016.
Companies have also been invited to bid to run Maritime and Coastguard Agency helicopters in 2017.
Firms were asked to provide the government with information showing their suitability to operate helicopter searches and rescues by Tuesday.
Next month, companies will be told if they have made it onto a shortlist and will also be invited to enter into talks on the contract.
The information sought by the Department for Transport was to be set out in a document called the pre-qualification questionnaire.
A year from now the winning bidder, or bidders, should be offered a contract according to a timescale published in November last year.
The final deals are expected to be signed in February 2013.
Last month, the UK government said it hoped a contractor would be able to commence operations currently provided by the military in 2015.
Ageing RAF and Royal Navy Sea King helicopters are scheduled to be retired in March 2016.
Companies are bidding for a contract to operate large helicopters capable of carrying at least eight casualties from Sumburgh, Stornoway, Culdrose, Leconfield and Valley.
Bids have also been sought to fly helicopters with capacity for at least four casualties from Lee-on-the-Solent, Chivenor, Prestwick, Lossiemouth and Wattisham.
The contracts can be bid for separately, or combined in a single bid.