Landslide risk may change school day for 60 pupils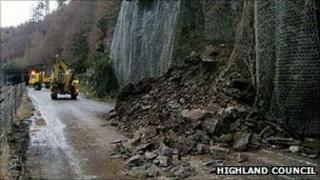 About 60 pupils in Wester Ross are to take a train to school if their normal route by road continues to be at risk of landlsides.
The youngsters from the Lochcarron and Applecross areas will not arrive at Plockton High School until after 11:16 because of the train timetable.
However, the school day will be extended. The high school reopens next week after the holidays.
The section of A890 in Wester Ross has been shut since 22 December.
More than 100 tonnes of rock came down on the Lochcarron to Kyle road at Stromeferry.
There was a further landslide a few days later.
Until the area is deemed safe, driving between Lochcarron and Kyle involves a 140 mile (225km) diversion via Inverness and then the A82 to Invermoriston.
The nearby railway was not affected.
The 60 pupils who may have to travel by rail would take the train from Strathcarron and Kyle to Plockton.
Highland Council is also considering reinstating a ferry at Stromeferry as an alternative to the rail and road journeys.
Council leader Michael Foxley said: "We are acutely aware of the disruption caused by the ongoing closure of this busy route between Lochcarron and Plockton/Kyle and the significant diversion that is involved.
"At the same time, safety is paramount and this is foremost in our minds as we strive to find short, medium and longer term solutions to the problem of an unstable rock face."
John Laing, chairman of transport, environmental and community services committee, added: "We are working closely with a number of partner agencies to find ways of easing the inconvenience being experienced in the local communities by this closure.
"There are a number of contingency measures being considered and if the road is not reopened in the near future these will be put in place as a matter of urgency."