Danny Alexander in Inverness bypass funding call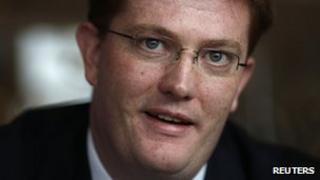 The chief secretary to the Treasury has said the Scottish government should help fund Highland Council's West Link.
Danny Alexander, Lib Dem MP for Inverness, Nairn, Badenoch and Strathspey, said the money would widen the council's options for the bypass.
Potentially costing up to £75.5m it would link the A9 and A82 and cross the River Ness and Caledonian Canal.
Transport minister Keith Brown said the UK government had cut Scotland's capital budget by 30%.
He described Mr Alexander's suggestion as "nonsense" given the reduction in funding.
Highland Council has said cheaper options for the West Link could be affordable using money from its own budgets.
The local authority has not been able to secure support for the project from the Scottish government.
Mr Alexander said Scottish government funding would widen options for where the route could go.
He also called for the SNP government to push ahead with funding the eastern end of the bypass linking the A96 Smithton Roundabout to the A9 at Inshes.
Mr Alexander has written to Scottish Infrastructure Minister Alex Neil asking him to use £400m of additional funding from November's UK government Autumn Statement to assist Highland Council.
He said: "There is a positive opportunity to let the council choose the best option for the bypass instead of one of very few options which are affordable if it is forced to proceed alone.
"I hope ministers will give serious consideration to grasping the opportunity - both by contributing to the western link and by bringing forward plans for a new link from the A96 to the A9, serving the planned Beechwood education campus."
But Mr Brown said the MP's suggestion was "absolute nonsense" given that the UK government was cutting Scotland's capital budget.
He added that if Mr Alexander was unhappy with the balance of transport spending, he should take it up with his Liberal Democrat colleagues who voted to spend £500m on the Edinburgh trams against the policy of the SNP government.
Last month, Highland Council said it would re-examine title deeds of land which could be crossed by a planned new road.
It confirmed it was taking the action following suggestions that land at the Bught could be common good land.
Common good campaigner Andy Wightman said last month that BBC research of the title deeds suggested the area should have that status.