Scottish wind farms 'return to original place names'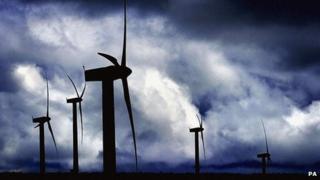 Plans for one of Scotland's most controversial renewable energy projects were considered by Highland councillors on Tuesday.
Following a debate on Allt Duine Wind Farm, the members of the south planning applications committee voted to oppose the project.
The Scottish government has the final say on the development, but only after a public inquiry has been held.
Whether it is finally approved or rejected, Allt Duine is among several planned and existing wind farms with names that recognise their locations' original Gaelic place names.
Dotted around Argyll and the Highlands and Islands are farms called Bad a' Cheò, Druim Bà and Lochluichart.
In English, the names mean Place of the Mist, Cow Ridge and Loch of the Encampment.
A wind farm called Beinn an Tuirc in Kintyre means hill, or mountain, of the boar. The name relates to an ancient Gaelic epic tale.
It tells of a man called Diarmaid who after killing a boar on the mountain was poisoned by a spike of its fur when he measured it using his bare feet.
Bòrd na Gàidhlig chief executive John Angus MacKay said it was important original names were recognised.
He said: "The Gaelic Language (Scotland) Act 2005 confirmed Gaelic as an official language of Scotland, commanding equal respect to the English language, we are therefore very pleased that Gaelic names are being used in naming some of the wind farms that are appearing across Scotland.
"As well as returning to original place names the move proves Gaelic's place in the modern world.
"We congratulate these companies on their use of the language and would encourage others to do the same."
Gaelic historian Prof Hugh Cheape, of Skye's Sabhal Mòr Ostaig UHI college, suspected there was a presumption that farms should be named after where they are situated.
But he added: "If there is a will or intention on the behalf of developers to give them a Gaelic name because they are in the Highlands and Islands, then I would imagine that the developers should be congratulated on their cultural awareness and political acuity.
"This might be crediting them with more than usual imagination."
The historian said there was no reason why Gaelic could not sit comfortably with new technology.
He said: "It is of course entirely appropriate to consider the 'industrialisation' of the language - bringing the language into line with an economic reality, making it more adaptable and 'relevant' to the 21st Century.
"In fact the language is flexible and adaptable and, like English, pretty good at updating itself or bringing itself into line with linguistic and cultural needs.
"If you listen to the Gaelic news on the BBC, you will know how up-to-the-minute it can be and if words are 'recruited' to handle any new situation, they are generally entirely intelligible to the Gaelic speaker.
"'Wind farm', a relatively new concept which can't be immediately or entirely clear to an English learner, sits comfortably in the modern Gaelic lexicon as 'tuath gaoithe'."
Donald Morris, of Gaelic language organisation Comunn na Gàidhlig, said guidance and grants were available to developers to name and sign post sites.
He said Ainmean-àite na h-Alba, an authority on place names first set up to help the Ordnance Survey, had experts who have worked with local authorities and government agencies in using Gaelic and could also assist private companies.
Mr Morris said: "Developers should use the local indigenous name for the area they are developing.
"More often than not in the Highlands this name will be in Gaelic and we would encourage all organisations to use the proper name without interpreting it or altering it.
"Highland Council has issued guidance to encourage housing developers to use authentic forms and forms which can be used bilingually when they are creating new names."
He added: "I think it is fair to say that Gaelic organisations would be flexible and like to respond positively to a developer's desire to use Gaelic."
Scottish and Southern Energy said the majority of its wind farms were named based on the geographical area of the project.
The company is behind plans for the Pàirc Wind Farm on Lewis - pàirc is park in English.
ScottishPower Renewables said it had opted for a Gaelic name for one of its developments in Argyll.
A spokesman said: "Cruach Mhòr was named after the hill on which the wind farm is situated.
"We always try to use local land marks when it comes to naming our projects."
But James Lithgow, of Allt Dearg Wind Farmers LLP in Argyll, said using Gaelic had been a deliberate choice.
He said: "The name Allt Dearg - red burn - was chosen for the wind farm on the basis that it describes a feature adjacent to the turbines, a very bright red burn caused by local mineral deposits.
"The actual hill name Cruach a' Phubuill was considered, but rejected on the basis that it is harder for non-locals and non-Gaelic speakers to get their tongue around, and the original meaning and association on the name is now lost in the mists of time."
Mr Lithgow added: "Ours is a locally owned and developed wind farm, and this is our first development, but I have been told that it is a deliberate policy to use non-specific Gaelic names amongst some developers, so as not to inflame any particular passions associated with a better known location name."