Scottish Open hosts praised for dealing with storms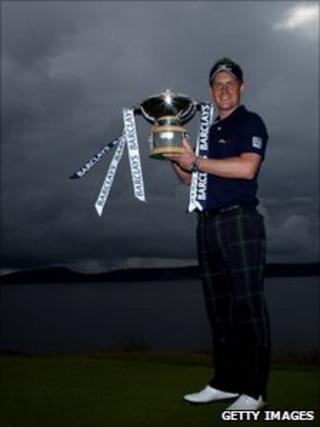 Dealing with damaging thunder storms at golf's Scottish Open showed the spirit of the event's Highland hosts "at its best", according to a tourism chief.
Heavy rain cancelled an entire day's play at Castle Stuart, near Inverness, during July's tournament.
VisitScotland chairman Mike Cantlay was at the course when the bad weather hit.
Reviewing 2011's tourist season, he said: "The Scottish Open was a great event. On the day of the storm everyone pulled together to deal with it."
He added: "It showed the attitude of people in the Highlands at its best."
Torrential downpours caused flooding and a landslip, but the course was opened the following day so the tournament could be finished.
World number one Luke Donald won the event.
Staff at Castle Stuart, which only fully opened in 2010, have already started preparations for the 2012 Scottish Open.
Mr Cantlay said the forthcoming tournament would be among the highlights of the new tourist season, and was an example of where new investment was being made.
He said: "It is important to appreciate that in Scotland we have still been building at a time when around the world capital investment in tourism has been very weak, if not non existent.
"All over the Highlands and Islands new facilities have been opening up, such as at Castle Stuart with the Scottish Open.
"What I have been really pleased to see, as I get out and about, is the amount of activity round the whole of the Highlands and Islands.
"I was up at John O'Groats to see the redevelopment work there, which is absolutely tremendous for that north-east corner of Caithness.
"In Orkney there is a lot of building activity and up in Shetland there are all kinds of new facilities, such as the new arts and culture centre Mareel."