Canadian soldier's Christmas with D-Day hero Lord Lovat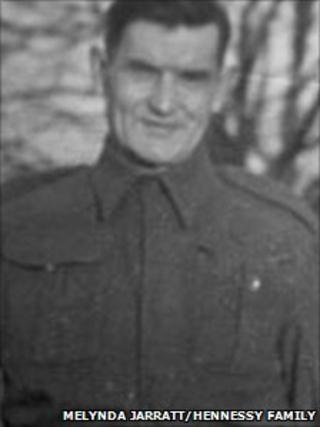 An author has uncovered details about how her grandfather spent part of Christmas Day 1941 with World War II hero Lord Lovat.
Canadian Melynda Jarratt has been examining almost 300 letters Canadian Forestry Corps cook Patrick Hennessy exchanged with his family back home.
One tells of Lord and Lady Lovat's invitation to the corps to join them at their Highlands castle.
Lord Lovat's actions at D-Day were recalled in the film The Longest Day.
Born Simon Fraser, the clan chief's best known order was to instruct Glaswegian piper Bill Millin to play the bagpipes as he came ashore at Sword Beach on 6 June 1944.
Mr Millin was unarmed as he marched up and down the beach playing Hieland Laddie.
He continued to play as his friends fell around him and later moved inland to pipe the troops to Pegasus Bridge.
In the 1962 film, which features a re-creation of Mr Millin's piping, Lord Lovat is played by actor Peter Lawford.
It also stars Sean Connery, Richard Burton, Robert Mitchum and Henry Fonda.
Father-of-six Mr Hennessy was among hundreds of experienced woodsmen from New Brunswick, Canada, who logged Highland forests for the war effort.
Skilled in the kitchen, Mr Hennessy served as camp cook with the corps' 15 Company at Beauly, near Inverness.
His family said his time in Scotland were among the happiest years of his life.
Granddaughter Ms Jarratt has been researching his war-time stories.
She has previously written about war brides, many of them Scots who married Canadian servicemen.
'Star-struck'
Ms Jarratt said her father and other Catholic worshippers among the corps' ranks were invited to mass at the Lovat's Beaufort Castle, near Beauly.
In a letter to his wife Beatrice, who he called Bee, Mr Hennessy wrote: "This invitation we got to the castle is something rare. It was wonderful to see the lovely chapel in the castle and some lovely statues of the Blessed Virgin and the crucifix and Joseph.
"A very magnificent altar. So Bee when you look at Beaufort Castle, think I was at mass on Christmas morning December 25, 1941."
Ms Jarratt said her grandfather and his fellow soldiers would have been awe struck by the invite.
She said: "For men like Patrick, with a grade three education and who had spent most of their lives working the woods and farms of rural Canada, it must have seemed like a dream come true.
"We don't know exactly what happened that day, how many soldiers were invited and what was said to the Canadians by the Lord and Lady - research in the Library and Archives Canada this spring will tell the full story.
"In all likelihood, the Canadians were left star-struck by their hosts and the opulent interior of a grand Scottish castle with two giant ballrooms and its own private chapel, a scene right out of the 'pictures' - as the movies were called then."