Music for BBC WWII documentary 'just poured out'
It is almost 70 years since the ancient seat of Clan Cameron near Fort William was transformed into Britain's secret weapon - a training centre for the commandos.
BBC Scotland is broadcasting a documentary on how Achnacarry - and other Highland estates - helped shape Britain's wartime special forces.
Between 1942 and 1945 thousands of servicemen would pass through Achnacarry.
The music in the programme has a strong link with just one of those servicemen.
Duncan Chisholm got a surprise when he was asked by the BBC to write the music for the forthcoming Castle Commando programme.
Surprise because the producers cannot have known he had such a close connection to the subject.
Duncan, a renowned fiddler, musician, and founder of the band Wolfstone was delighted to accept.
Delighted because his grandfather, Staff Sgt Duncan Chisholm, was one of the key trainers to the thousands of servicemen who came to the Highlands to learn specialist military skills.
Close connection
Castle Commando tells the story of how Achnacarry set the standard for special forces to this day, and how the remote location and rugged landscapes of the Highland estates made it an ideal training ground for some of Britain's toughest troops.
"Being a gamekeeper he was asked to instruct in field craft," said Duncan.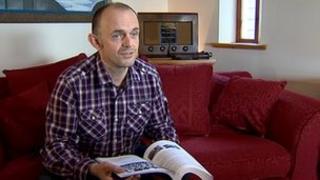 "It involved survival techniques and also sniping, which would have come as second nature to a Highland gamekeeper.
"Live ammunition was used during training and unfortunately he was seriously injured at Inverailort Castle when a live mine went off, killing the man next to him.
"After a few months in hospital my grandfather was re-assigned to teach field craft in Glenfeshie where he trained the commandos to ski and to work with husky dogs ahead of the planned attack on the heavy water plant that the Nazis had established in Norway."
That was the basis for the film The Heroes of Telemark.
Duncan says his close connection with the story and his knowledge of the landscape meant the music "just poured out".
"It was a very easy job to do, and I was very pleased with it," he added.
Castle Commando will be broadcast on BBC Two Scotland at 21:00 on Tuesday 31 January.