Clone Wars artist Tanya Roberts designs Hi-Ex poster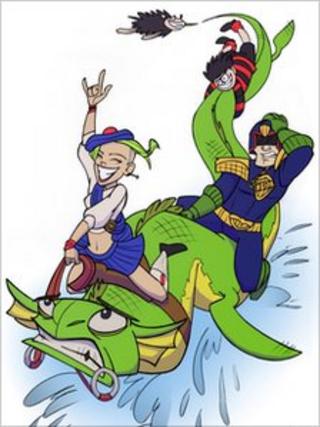 An illustrator for comics based on Star Wars spin-off Clone Wars has designed the poster for the Highlands' only comic book convention, Hi-Ex.
Edinburgh-born artist Tanya Roberts has worked on Clone Wars stories for Dark Horse, the third largest comic publisher in the US.
She has also illustrated Toy Story and Strawberry Shortcake stories.
Organisers of next year's event sought permission from the owners of the characters which feature in the poster.
It shows comic book characters Judge Dredd, Tank Girl and Dennis and Gnasher riding on the back of the Loch Ness Monster.
Nessie was the only one that no prior permission had to be sought for.
DC Thomson own the copyright for Dennis and Gnasher, Rebellion own Judge Dredd and Alan C Martin and Jamie Hewlett hold the rights to Tank Girl.
A spokesperson for Hi-Ex said: "This week sees the unveiling of the Hi-Ex poster artwork, featuring our local superhero Nessie, created for the 2012 event by Edinburgh-born artist and previous guest Tanya Roberts.
"Tanya studied animation in Dublin and later went on to work in comics.
"She has worked recently on Toy Story and Strawberry Shortcake and continues to work on Star Wars: Clone Wars. Hi-Ex are delighted to have her back as a guest in 2012."
Next year's exhibition of comic art and writing is to be held at Eden Court in Inverness from 31 March to 1 April.