Scottish wildcats 'not wild' about snow, says SNH report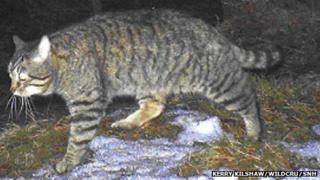 Scientists suspect Scottish wildcats may have trouble crossing deep snow, as camera traps captured no images of the animals after heavy snowfalls.
Other predators such as pine martens were photographed in thick snow in the Cairngorms National Park.
Zoologists from the University of Oxford worked with Scottish Natural Heritage (SNH) on the project.
Thirteen "wild-living" cats were photographed during the study, with four of them identified as wildcats.
The other nine were thought to be hybrids, rather than pure Scottish wildcats.
Nicknamed "Highland tigers", only about 400 pure wildcats are thought to survive in the wild.
Disease, habitat loss and cross breeding with domestic cats has caused a decline in pure wildcats.
Twenty camera traps were set up at locations on the Seafield and Strathspey Estates between February to May 2010.
The team from SNH and Oxford's Wildlife Conservation Research Unit (WildCRU) chose a type of camera that used an incandescent flash rather than an infra-red flash, which they said gave better quality and colour photographs at night.
The estates within the national park were picked because of sightings of "wild-living" cats by workers in summer 2009.
More than 3,000 photographs were taken, with 1,019 showing wildlife.
Twenty-seven different species were identified, including capercaillie and tawny owls. Rabbits were the most frequently seen animal.
In a report on the project's findings, the scientists said further research was needed to determine whether any significant seasonal differences affected the success of camera traps set for wildcats.
The report said: "It should also be noted that no cat photos were taken when the snow was greater than four inches deep, despite photographs of pine marten and prey species being captured.
"The European wildcat is known to have trouble moving around in snow and it is likely that the Scottish wildcat has a similar problem.
"Therefore, it is recommended that camera trapping for this species is not carried out in heavy snow at is unlikely to yield good results."
The report quoted the 2002 research study - The role of snow cover for European wildcat in Switzerland.
Scientists involved in the Switzerland study tracked wildcats that moved to areas free of snow in winter and spring, but returned to higher altitudes once snow had melted away.
Among Claude Mermod and Martin Liberek's conclusions was that prey was more available higher up hillsides in summer.
They also suggested that the cats were less likely to be disturbed by humans further up hillsides.
Because of threats to Scottish wildcat numbers in the wild, a scientist who was involved in cloning Dolly the sheep 15 years ago has started work on a new technique to clone wildcats.
Embryologist Dr Bill Ritchie said the project could help protect the species.
Midlothian-based Moredun Research Institute is involved.
The Royal Zoological Society of Scotland (RZSS), which owns the Highland Wildlife Park, has previously suggested cloning wildcats.