Canadian dog and handler tackle Scottish avalanches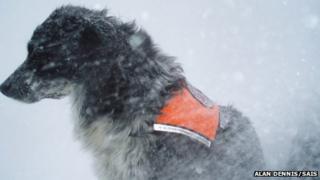 A dog and his handler from Canada are gaining experience on avalanches in Scotland that could help the duo attain rescue accreditation back home.
Alan Dennis and his border collie cross Chester are spending their third winter working with the Sportscotland Avalanche Information Service (SAIS).
They are helping to monitor risks in the Southern Cairngorms after two seasons in the Northern Cairngorms.
Mr Dennis and his dog are flown over each year to work with SAIS.
On Monday, the pair were asked to help find two skiers after they had got lost in poor visibility outside the fences at the Glenshee Ski Centre.
The skiers were found safe and well by other searchers out looking for them.
Mr Dennis said he hoped skills they were picking up in Scotland would count towards validation by organisations such as the Canadian Avalanche Rescue Dog Association and British Columbia Search and Rescue Dog Association.
Dogs play a key role in avalanche search and rescues in Canada.
One rescue team, however, uses domestic cats in searches for people buried under snow.
Mr Dennis said: "Chester and I only got back over to Scotland last month and we are settling back into our work here.
"I am biased, but I think Chester would be able to respond very quickly to an incident. We practise finding people and articles buried under snow.
"Being validated is our goal."
Mr Dennis and his girlfriend got Chester, who will be five in March, from an animal rescue home.
While working at a mine in Canada, Mr Dennis said he was allowed to take the collie to work with him because of his potential usefulness in an avalanche in the area when other dogs on the site were being "kicked out for making a mess and causing trouble".
He added: "Chester thrives in the Scottish mountains and he copes with the weather far better than I do."
SAIS began its forecasts for Creag Meagaidh, Glencoe, Lochaber, Northern Cairngorms and Southern Cairngorms last week.
Meanwhile, the Mountain Rescue Committee of Scotland (MRCofS) has secured European Union funding so 10 mountain rescuers from Scotland can attend a five-day avalanche rescue instructors' programme.
Next month's training will be hosted by the Austrian Mountain Rescue Service in Voralberg, Austria.
MRCofS chairman Jonathan Hart, who is based at Northern Constabulary's Inverness headquarters, said the training would add to the knowledge and skills already acquired by team members in Scotland.
He said: "Scottish mountain rescue teams respond to a number of avalanche rescue incidents every year in Scotland and are the only emergency service that can provide the technical skills and capability for this hazardous terrain.
"In Scotland we already deliver very successful MRCofS avalanche rescue courses from levels one through to three, for all Scottish teams."