Liam Aitchison's family accept Matthew Wright apology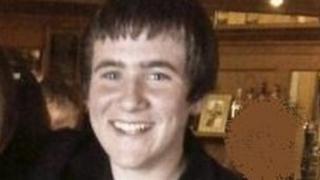 The family of an alleged murder victim have accepted an apology from TV presenter Matthew Wright about the police investigation into his death.
Wright has apologised on air and in a letter to Liam Aitchison's parents about comments made during a newspaper review on Channel 5's The Wright Stuff.
Ofcom, which has received about 2,220 complaints, has launched an investigation into the programme.
Liam's family said they had since spoken with the presenter.
Two men have appeared in court charged with Liam's murder.
The 16-year-old was found dead in a derelict building in the Steinish area on the outskirts of Stornoway on Lewis earlier this month.
When the launch of a murder inquiry was reported in the newspapers, Wright caused controversy when he put on a Scottish accent and said "there's been another murder", copying a phrase from detective show Taggart.
A panelist on the show pointed out that it was the first murder in the Western Isles for 40 years and Wright repeated the Taggart phrase.
Wright later apologised on air for his comments, saying it had not been his intention to "belittle" the death.
The presenter said that those campaigning for people to complain to Ofcom should "grow up". He later made a second on air apology.
Liam's family have issued a statement through Northern Constabulary ahead of a memorial service in Stornoway on Tuesday.
They said: "We have spoken with Matthew Wright and have accepted his apology for comments made regarding Liam's death.
"We would like now to draw a line under the whole Wright Stuff incident and ask people to focus on the process of justice for Liam."