Scotland's cities' chances of a white Christmas rated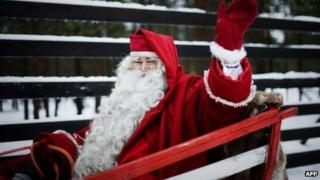 Aberdeen is the Scottish city with the best chance of having white Christmases, according to a scientist's research of Met Office statistics.
Lewis-based Dr Edward Graham, of the University of the Highlands and Islands (UHI), said Christmas Day in Scotland was most likely to be mild and wet.
One year in six is likely to be white in Aberdeen, one in eight in Inverness and one in 10 in Edinburgh.
For Glasgow the chances fall to one year in 12.
Dr Graham also looked at weather statistics for other parts of the country.
For Stornoway on the Western Isles, the chances of a white Christmas were slim - only one year in 15 - but for Lerwick on Shetland it rises to one in five.
Prestwick on the Ayrshire coast could expect to see snow in less than one year in 30, according to Dr Graham's research.
Volcanic activity
However, his study pointed to Braemar in Aberdeenshire being a Scottish town with one of the best chances of a white Christmas, with the statistics suggesting one in every two years being snow covered.
Climate scientist Dr Graham said: "This brings us to the question of why recent winters have been so snowy?"
"The statistics do indeed confirm that recent Decembers have been snowier than the 20th Century average.
"Indeed, December has been the only winter month that has 'bucked' the general warming trend.
"In 1995, there was a record cold spell at Christmas, when the lowest ever air temperature recorded in Scotland -27.2°C was equalled at Altnaharra.
"December 2000 also brought cold and snowy weather between Christmas and New Year.
"Two years ago, December 2009 brought much snow and ice, and of course how can we forget December 2010? It was one of the coldest and snowiest Decembers ever recorded in Scotland.
"This means that we have had had two white Christmases in a row in 2009 and 2010."
He said research by Prof Mike Lockwood and colleagues at the University of Reading suggested that there was a link between cold winters in Europe and "quiet" phases of the solar sunspot cycle.
Dr Graham said other researchers point to a remarkable loss of sea-ice in the Arctic Ocean, with 30 to 40% less ice during recent late summers and autumns than previously.
He said: "Such a huge difference in sea-ice distribution causes more water to evaporate from the open sea surface and is sure to change the atmospheric circulation.
"Others say the increased volcanic activity of recent years has upset global weather patterns."
Christmas weather has been investigated by other UHI staff.
Clive Bowman, a former researcher at the Centre for Mountain Studies UHI in Perth, was involved in a climate change project that looked weather patterns in northern Europe.
Among its conclusions was an increased likelihood of snow-free "black Christmases" for the capital of Finnish Lapland by 2050.
Rovaniemi is the official hometown of Santa Claus, according to its tourism body.
The town in the Arctic Circle was among case studies for Clim-ATIC project led by the Centre for Mountain Studies.