Approval of Allt Duine Wind Farm recommended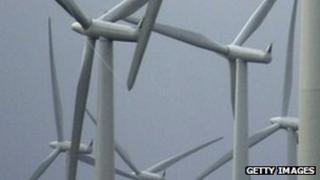 A plan for a wind farm that could generate electricity for up to 43,000 homes will be considered by Highland councillors on Tuesday.
RWE Innogy has proposed constructing 31 turbines near Kincraig in Badenoch and Strathspey.
Highland Council officers have recommended that the local authority does not object to the project.
The Mountaineering Council of Scotland said landscape was being sacrificed to the interests of firms and landowners.
The Scottish government has consulted Highland Council on the Allt Duine Wind Farm as part of its consideration of the plan.
Council officers have made their recommendation in a paper to Tuesday's Inverness, Nairn, Badenoch and Strathspey planning applications committee.
RWE Innogy said it has made changes to its original proposal following feedback from the public and organisations it had consulted.
The project has been reduced from 34 to 31 turbines, which will have a maximum height to blade tip of 125m (410ft).
At three locations the height to blade tip has been restricted to 110m (360ft) so turbines cannot be seen from viewpoints in the area, the company said.
The Mountaineering Council of Scotland (MCofS) said it supported greater use of renewable energy.
However, it said the policies of the UK and Scottish governments sacrificed landscapes and favoured developers.
President Brian Linington said: "The MCofS believes that Scotland's mountain landscape is a valuable asset which belongs to the Scottish people.
"That mountain landscape has a scenic, cultural, economic and iconic value to the Scottish nation, which is worth significantly more than its economic value to renewables investors for power generation developments."
He added: "We are pro-renewable energy and believe that Scotland's renewables targets can be achieved without recourse to the extensive development of mountain areas, areas which have international recognition as landscapes of outstanding natural beauty."