Russian warships leave Moray Firth for Atlantic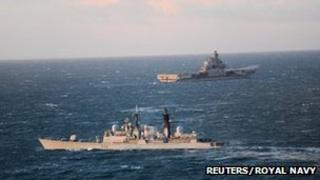 Russian warships and support vessels which had taken shelter in the Moray Firth are heading for the Atlantic, according to the Royal Navy.
HMS York has been tracking aircraft carrier Admiral Kuznetsov, a destroyer and two frigates.
Three oil tankers in the task group left the warships to pass through the Pentland Firth on Thursday.
An ocean-going tug, the Nikolay Chiker, was about 27 miles off Stronsay in Orkney on Friday morning.
The Ministry of Defence (MoD) said the vessels - elements of Russia's Baltic Fleet - were moving over the top of Scotland.
Shetland Coastguard said the tankers had moved through the Pentland Firth - the stretch of water between Scotland's north mainland coast and Orkney.
The Nikolay Chiker had been headed north off Orkney before turning north east.
The coastguard has been unable to track the movements of the military ships.
Russian vessels began to appear in the Moray Firth on Monday to seek shelter from stormy weather.
On Tuesday, SNP defence spokesman Angus Robertson said it had been brought to his attention that one of the crews had been dumping waste overboard.
The MoD said the rubbish was most likely to have been waste food, which they were allowed to dump provided there was no plastic in it.
It is understood that the vessels had been heading for the Mediterranean.
Russian military news agency Interfax-AVN said on Monday that the Admiral Kuznetsov, which the Russians class as a heavy aircraft carrying cruiser, had been en route to Syria.