Scottish avalanche risk forecasts restarted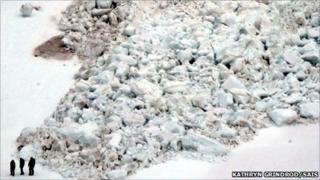 Avalanche forecasts have restarted for five mountain areas in Scotland.
Sportscotland Avalanche Information Service (SAIS) has reported seven snow slides in the past month ahead of launching its full service.
Forecasts are provided for Creag Meagaidh, Glencoe, Lochaber, Northern Cairngorms and Southern Cairngorms.
Avalanches in Scotland last winter included a slide in the Northern Cairngorms in April that generated huge amounts of debris.
The avalanche, off an area known as the Great Slab in Coire an Lochain, usually occurs in May.
Heavy rain, warm temperatures and high winds were suspected to have caused the early release of snow.
More than 170 avalanches were recorded by the SAIS last winter.