Seven Russian warships remain near the Moray Firth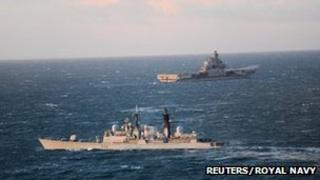 Russian warships remain near Scotland's Moray Firth after seeking shelter from stormy weather on Monday.
The Ministry of Defence (MoD) said the crews had indicated that they planned to remain in the area until at least later on Thursday.
Elements of the Baltic Fleet started arriving 30 miles (48km) off the Moray Firth on Monday.
It was understood the vessels, which were being tracked by HMS York, were headed for the Mediterranean.
Aircraft carrier Admiral Kuznetsov has been sitting off the firth along with a destroyer, two frigates, two tankers and an ocean-going tug.
The MoD said: "The Russian vessels remain weather-bound in the Moray Firth.
"They have indicated an intent to remain until at least later today when the weather improves."
The MoD said the Russian task group was in international waters.
HMS York's commanding officer, Commander Rex Cox, said: "Our presence is a clear signal to the Russian task group that the Royal Navy is active and alert around UK waters and we will continue to monitor their activities as they make their way south.
"We are well-practised in this type of operation and are ready to position anywhere around the UK and to provide a robust presence when called upon."