New interpretation panels at Lochaber Geopark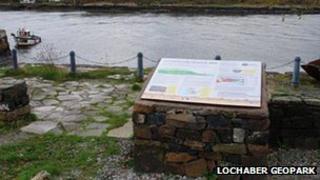 Backers of a "geopark" in the Highlands are continuing with efforts to promote its geology after the area lost its Unesco recognition.
Volunteers running Lochaber Geopark could not raise the funds needed to employ a full-time project officer, a requirement of the designation.
Unesco status, which aims to protect and promote landscapes, was awarded in 2007 and withdrawn last month.
Despite the set back, the park is to get 20 new interpretation panels.
A Geopark is defined by the United Nations organisation Unesco as a territory encompassing one or more sites of scientific importance, "not only for geological reasons but also by virtue of its archaeological, ecological or cultural value".
There are about 500 Unesco Geoparks worldwide, with Shetland and the Cotswold Hills among the UK sites.
The Lochaber area includes features from a deeply-eroded volcano on Rum in the west to the Parallel Roads of Glen Roy in the east.
Stone plinths for the interpretation boards have already been put in place at locations such as the lower falls car park in Glen Nevis, Treslaig village hall car park, a lay-by north of Letterfinlay on the A82 and beside the ferry terminal at Lochaline.
All 20 panels will be fitted by April next year and will have graphics that can be scanned by mobile phones to take people to websites with more information about geology.
Prof Ian Parsons, vice chairman of the geopark and editor of the interpretation boards, said visitors would be able to learn more about features such the Great Glen Fault and Ben Nevis Caldera.
He added: "Importantly, this is no longer just from a textbook or indoor display, but when readers are outside and able to look at the exact features being described."
The project had support from Scottish Natural Heritage, Scottish government, European Community Highland Leader funds, Highland Council, British Geological Survey, SRK Consulting and BP.
In a statement released last month, the voluntary group behind Lochaber Geopark expressed disappointment at losing the Unesco recognition.
Landscape within the geopark's boundaries inspired work by scientist Charles Darwin in the 1800s.
The scientist spent five days in the Glen Roy in 1838 and said the experience surpassed an earlier expedition to Chile.
Darwin studied the glen's Parallel Roads, the shorelines of ancient lochs.
He wrote of his trip: "I wandered over the mountains in all directions and examined that most extraordinary district.
"I think without any exception, not even the first volcanic island, the first elevated beach, or the passage of the Cordillera, was so interesting to me, as this week.
"It is far the most remarkable area I ever examined."