Highland polar bear Walker in BBC Frozen Planet row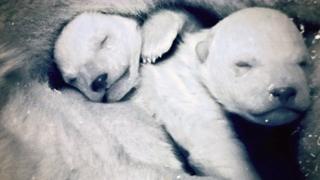 One of two polar bear cubs at the centre of a controversy over the BBC's Frozen Planet has been confirmed as Highland Wildlife Park bear Walker.
An episode featured the cubs in a den with their mother, with many people assuming they were born and filmed in the Arctic.
But the cubs were actually in a Dutch zoo, as revealed in behind-the-scenes footage on the show's website.
The BBC has defended the footage and denied misleading viewers.
Walker, who is now three years old, is kept at the Highland Wildlife Park at Kincraig, near Aviemore.
Douglas Richardson, animal collection manager, said the BBC was right to film cubs in a zoo rather than risk harming a den in the wild.
He said: "We're all delighted here at the Highland Wildlife Park to discover that Frozen Planet's fantastic high quality footage of the polar bear cubs in their cubbing den actually includes our very own Walker.
"Walker is an extremely happy and well-loved bear."
Mr Richardson added: "To do something like this in a polar bear cubbing den in the wild would be totally impossible, as well as being extremely dangerous, the interruption would likely cause the mother to kill her cubs.
"The captive footage was a very interesting and valuable addition to the programme.
"Because of the amazing footage we have become accustomed to, especially from the BBC's wildlife documentaries, people expect that they can film anything, but a wild female polar bear in her den is currently beyond the capabilities of even these skilled and dedicated crews."
The BBC said the filming was "standard practice" for natural history shows.
A spokesperson said on Monday: "This particular sequence would be impossible to film in the wild.
"The commentary accompanying the sequence is carefully worded so it doesn't mislead the audience and the way the footage was captured is clearly explained on the programme website."
Speaking to ITV1's This Morning programme, Frozen Planet presenter Sir David Attenborough said: "If you had tried to put a camera in the wild in a polar bear den, she would either have killed the cub or she would have killed the cameraman."
He added that an explanation about the animal park footage would have ruined the atmosphere of the sequence.
Sir David said: "It's not falsehood and we don't keep it secret either."