Campaigners challenge Highland Council over West Link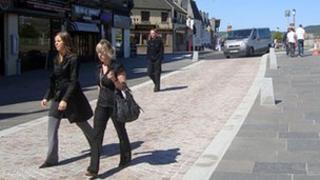 Highland Council has been accused of misunderstanding rules on common good land in connection with plans to build a new road for Inverness.
The local authority has repeatedly said common good land would not be affected by its proposed West Link.
But West Link Protest Group and Inverness Civic Trust said doubts remained over ownership of some land.
The new route is needed to ease travel across the city and reduce pressure on city centre streets.
Last month, BBC research of title deeds suggested that some areas near Whin Park and the Canal Pitches which the road might cross qualified as common good land.
Community land rights campaigner Andy Wightman said the Inverness Common Good Fund would be due compensation if the land was built on.
Now West Link Protest Group and Inverness Civic Trust have challenged Highland Council on the matter.
In a joint statement, they said: "The council's rejection of the claim is based upon misunderstanding of the legal basis of common good in Scotland and assumes that as their name is on the title that they are the owners, which they are not.
"They are the trustees for the common good. The council have failed to identify the grounds for their perfunctory dismissal of this claim.
"It is our intention to provide each councillor with a portfolio containing all of the evidence backing this claim and as trustees they are obligated to investigate this claim on behalf of the common good and the people of Inverness."
An aqueduct
In a paper to a full meeting of the council later this week, officers report that the proposed route would not affect common good land.
They said only the bed of the River Ness, which the West Link would bridge, was among the Inverness Common Good Fund assets.
The West Link aims to take traffic from the city's Southern Distributor Road to the A82, avoiding the city centre.
It would have to cross the River Ness and Caledonian Canal.
An aqueduct costing an estimated £75.5m is also among the eight options for the proposed new road.
The other options involve new swing bridges on the canal and the local authority has put the cost of those suggestions at between £23m and £32m.
Highland Council said it has money in its capital budget that could go towards the cost of the less expensive proposals for the road.