Poor spring blamed for affecting sea eagles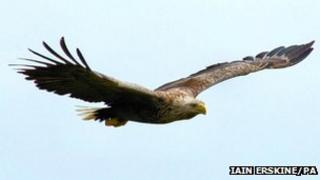 Three fewer white-tailed sea eagle chicks fledged in 2011 than the year before, according to the latest breeding figures from RSPB Scotland.
Bad weather in May was thought to have been a factor behind the dip, from 46 to 43, with some nest sites damaged by the stormy conditions.
However, 2011 did see an increase in numbers of territorial pairs with 57 compared to 52 last year.
The raptors are the UK's largest bird of prey.
After becoming extinct in the UK during the 20th Century, the eagles were first reintroduced to Rum in 1975.
They can now also be found in Fife and Aberdeenshire.
Projects to encourage birds to establish territories on the east coast have attracted controversy.
In September, the Scottish Gamekeepers Association raised concerns about whether sea eagles could differentiate between children and their natural prey.
The comment followed an incident in Abernethy, near Perth, where a senior clergyman was injured by a young eagle as he tried to scare it away after it attacked one of his geese.
The SGA called for a public inquiry into the impact of the reintroduction of the birds on the east coast.
RSPB Scotland described the small child claim as "alarmist nonsense".
The Scottish government said it was not aware of any attacks by sea eagles on children in other countries and did not think a public inquiry was necessary.
'Sheer grandeur'
While publishing this year's breeding, RSPB Scotland said sea eagles played an important part in attracting tourists to islands such as Skye and Mull.
The charity said visitors drawn to see the birds on Mull generated £5m a year for the island.
Duncan Orr-Ewing, head of species and land management at RSPB Scotland, said: "The white-tailed eagle is part of Scotland's rich natural heritage and it is fantastic to see them back where they belong and gradually increasing in numbers and range on the west coast.
"They are improving biodiversity in this country and bringing in important economic benefits to the communities they soar above."
Ron Macdonald, head of policy and advice for Scottish Natural Heritage, said the birds had continued to breed during a difficult cool and wet spring.
He added: "More and more people are now getting a chance to see these big birds of prey soaring over our countryside, increasingly in areas close to our villages, towns and cities.
"In addition to inspiring people with the sheer grandeur of their flight, they also contribute to the growth of nature-based tourism in Scotland.
"Latest published figures show that the direct economic value to Scotland of nature-based tourism is £1.4bn per year."