Dounreay firm sets out implications of new rules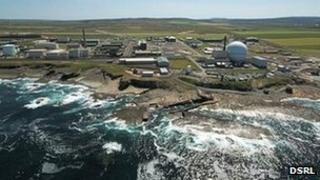 A nuclear plant that got planning permission within three days of the application to build it was received must now comply with tougher rules.
A register of planning applications for Caithness from 1955 shows plans for Dounreay listed after an application to construct a timber garage.
New regulations require consultation and public hearings before applications for major projects are submitted.
The lead company at Dounreay has been highlighting how the changes affect it.
Dounreay Site Restoration Limited (DSRL) has been heading up the demolition of the plant.
New facilities will need to be built in the future to handle radioactive material recovered from its reactors and also from part of the site called the Shaft.
DSRL said dealing with the Dounreay Fast Reactor, Prototype Fast Reactor and the Shaft were likely to be developments that would be categorised as major.
The planning process has changed markedly since the 1950s, but under new rules brought in by the Scottish government, all types of major projects now need extensive consultation, environmental impact assessments and a public hearing before an application is submitted.
DSRL has reported on the regulations and its implications for Dounreay's demolition in the site's newspaper.
The report also includes the extract from the 1950s hand written planning register which lists plans for a £6m Atomic Energy Authority establishment in the parish of Reay.