Learning support in Gaelic lacking, MSPs told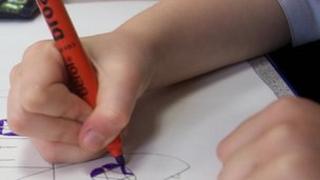 A mother of a boy who requires learning support has said that such help was severely lacking in Gaelic education.
Carole Henderson's son was diagnosed as having verbal dyspraxia when he was at nursery. He is now in Gaelic medium education at primary school.
Ms Henderson said in Lanarkshire, where they live, she had been unable to find educational specialists with Gaelic.
Speech therapists and psychologists were among the posts with no Gaelic speakers, she said.
The Scottish government said it was committed providing services that met people's needs, but added that it was for NHS boards and local authorities to decide how they funded specialist support.
Ms Henderson raised her concerns in a presentation to the Scottish Parliament's cross party group for Gaelic on Tuesday.
She has gathered details of her own experiences and those of other parents of children learning Gaelic who require specialist support.
Ms Henderson's evidence includes the results of a questionnaire answered by 21 schools providing Gaelic medium education, including schools in Argyll, the Highlands and Islands and in Glasgow.
Eighteen schools which answered a question on what language was used by their educational psychologists said it was English.
Seventeen replied to a question on what languages their learning support teachers had.
Five said English and Gaelic, one Gaelic and another used English but was also learning Gaelic. The others who answered the question said learning support teachers used English only.
Ms Henderson said authorities in Wales and Ireland offered dedicated support to children who need extra help at Welsh and Irish Gaelic language classes.
She said: "We need teachers, support for learning teachers, classroom assistants, speech and language therapists, educational psychologists.
"We need to promote these career options in order that the qualified people exist for the health boards and local authorities to employ."
A spokesman said the Scottish government was committed to maintaining high standards of care.
He added: "It is for each NHS board to decide how best to deliver those services to meet the needs of the population, including how best to use funding, taking account of national and local priorities.
"Some local authorities have commissioned work on Gaelic assessment materials and operate a staged intervention model and we hope that these areas of good practice could be rolled out as more people with Gaelic skills enter the field.
"The Scottish government continues to work with Bòrd na Gàidhlig on initiatives to increase the number who speak Gaelic in all vocations."