Exhibition of Highland's slave past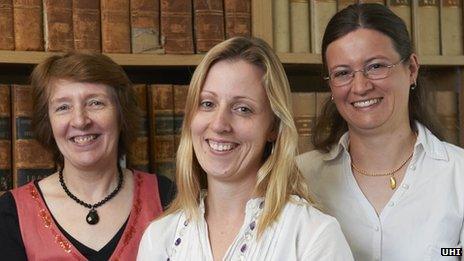 A new exhibition will display research into the Highlands' links to 17th and 18th century slave trades.
Academics from the University of the Highlands and Islands (UHI) worked with pupils at Inverness Royal Academy on the project.
The old royal academy received money from slave traders.
Looking Back to Move Forward: Slavery and the Highlands, the exhibition will be held at the Highland Archive Centre in Inverness from Wednesday.
The display is part of a wider investigation into the Highlands' slave past by UHI.
Academics found evidence in letters of the practice of keeping sex slaves by 18th Century plantation owners from the Highlands.
Project leader Dr Karly Kehoe, a lecturer at the Centre for History UHI, said she had been disturbed by the contents of some of the archive material.
One letter recounted owners sexually abusing female slaves on plantations in the West Indies.
Dr Kehoe said: "The links between the Highlands and the slave trade were extensive, but it's a topic that's been under-researched.
"The students we've been working with are making a real contribution to scholarship and learning about the history of their region's development in the process."
Dr Kehoe added: "The programme, which links research with public engagement, is critical for inspiring the intellectual, cultural, social and economic entrepreneurship needed to make this region sustainable.
"Academics have a responsibility to participate in this process and the University of the Highlands and Islands must take a lead in this."
Inverness Royal Academy history teacher John Quigley added: "This project has given students an insight into original primary evidence and a real hands-on experience in learning about the connections between Inverness Royal Academy and the development of slavery in the Highlands."
Separate from the exhibition research, the Highlands' connections with slavery have been documented elsewhere in recent years.
A Scottish soldier's request to take his daughter's black slave called Doll with him to war in 1782 was highlighted by a Highland Council-run Am Baile history website in 2009.
Lt Soirle MacDonald, from Skye, was a loyalist fighting for the British Army in the American War of Independence.
A letter granting him permission regarding the slave is among a collection of papers in Am Baile's database.
The collection of correspondence sent to MacDonald forms part of the JLM Mitchell Archive of the Gaelic Society of Inverness.
Related Internet Links
The BBC is not responsible for the content of external sites.