Woman jailed for Inverness knife attack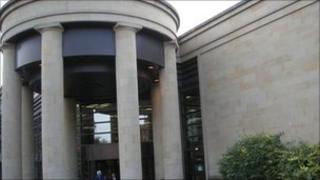 A woman has been jailed for three years and nine months for a knife attack on a man in Inverness she claimed had cheated her in a drugs deal.
Nicola Mackintosh, 27, stabbed Derek MacLeod, 32, at the city's Waterloo Bridge to "teach him a lesson", the High Court in Glasgow heard.
Mackintosh, from Inverness, had been accused of attempted murder but her guilty plea to assault was accepted.
Judge Lord Matthews said her history of violence was a concern.
Mackintosh alleged that she had sought to buy drugs from Mr MacLeod before the attack in June.
Mr MacLeod denied the allegation and claimed he had gone to Waterloo Bridge to get heroin from her.
Abusive partners
Lord Matthews said Mackintosh's life had been "punctuated" by mental health difficulties, drug and alcohol problems and she had been the victim of abusive partners.
She had suffered a miscarriage before the day of the attack.
The judge said Mr MacLeod's injuries were not as serious as they might have appeared.
In his sentencing statement, Lord Matthews added: "What concerns me however is that you have a number of previous convictions, including for violence, albeit the most serious of these, a conviction for assault to severe injury in the High Court which resulted ultimately in a prison sentence of three years, was 11 years ago.
"Furthermore, you were prepared to carry and use a knife, the results of which could have been much more serious."