Graffiti to cover vehicles in Inverness arts project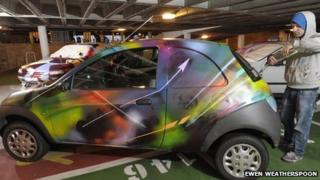 Motorists have had their cars and vans covered in graffiti as part of a city's art project.
The spray painting took place on the ground floor of the Rose Street car park in Inverness.
Inverness Old Town Art (Iota) organised the project, which was supported by Highland Council.
Iota has previously knitted covers to go over ancient gravestones and created a mural for the city's Crown Road wall.
The project's Susan Christie said a range of people had come forward to have graffiti sprayed on their vehicles by artists calling themselves Team Recoat.
She said: "The public have volunteered their vans, campers and cars with interest from hip hop enthusiasts to people who want to change the image of 'white van man'.
"The demand has been surprising.
"Although we can only work on five cars this time, we've invited Team Recoat to come back next year."
Provost Jimmy Gray said Iota's ongoing programme of work had been recognised locally and nationally.
He added: "Through these unusual events, Inverness is attracting new audiences and broadening the ways in which people can actively engage in the city's creative development."
Psychiatric patient
Earlier this year, the story of a Scots soldier who chose not to talk for 50 years helped to inspire artwork forming part of the Crown Road wall's £60,000 renovation.
A large section was decorated by artist Mike Inglis.
Some of the designs were influenced by items woven from grass and leaves by former Lovat Scout Angus MacPhee.
Mr MacPhee, who died in 1997, took ill while garrisoned on the Faroes in 1940 and was later a psychiatric patient.
Inglis' artwork also references the Scottish clan system in depictions of two groups of young people, with one of the groups comprising youths with deer heads.
Textures and patterns in the wall art were inspired by Mr McPhee's weaving.
Born on South Uist, the islander served with the Lovat Scouts during World War II.