Dualling of Perth to Inverness A9 to finish by 2025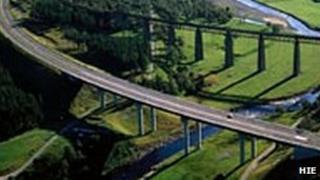 Scottish ministers are to set out plans to complete the dualling of the main road from Perth to Inverness by 2025, BBC Scotland has learned.
At Holyrood next week the government is to set out a plan to progressively upgrade the A9, year by year.
The move, promised in the SNP 2007 election manifesto, was welcomed.
But Highland Labour MSP David Stewart said: "It would be quicker sending a space probe to Mars and back before the SNP manage to finally dual the A9."
Ministers believe upgrading the A9, currently a mix of single and dual carriageway, is vital for the Highland economy.
Stretches of the road have also seen a number of fatal and serious accidents over the years.
A report commissioned by Highlands and Islands Enterprise and transport group Hitrans in 2007 said the Highlands and Islands could benefit from the project to the tune of almost £1bn.
And the A9 Perth to Inverness Economic Appraisal Study estimated the upgrade could cut journey times by 22 minutes and create 724 jobs in the short-term, rising to 4,500 over 30 years.
Highlands SNP MSP John Finnie said: "The SNP has an excellent track record of improving infrastructure across the country, with the completion of the M74 and progress on the M8.
"Where opposition parties have spent years grumbling, the SNP is the only party to take action to improve the A9 with over £50m invested already."
But Labour MSP Dave Stewart said of the SNP: "They have been full of big promises but have continually let the Highlands down.
"It was a key manifesto commitment in 2007 and John Swinney has been holding the chequebook ever since.
"It will be almost 20 years since the Nationalist's promise and final delivery."