Civilians to fly search and rescue helicopters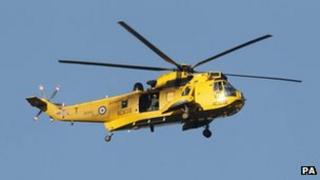 Contractors are to take over helicopter search and rescue roles from the military, the UK government has said.
Ageing Sea King helicopters flown by the RAF and Royal Navy from RAF Lossiemouth in Moray and HMS Gannet in Ayrshire are to be retired by 2016.
Transport Secretary Justine Greening paid tribute to the military crews and said it was hoped to award the civilian contract in early 2013.
Faster modern helicopters would operate from 10 UK sites, the government said.
The new plans have been criticised by the SNP.
The party's Westminster leader, Angus Robertson, said the military played "a very useful role" in rescue operations and he believed the move would leave no military helicopters based in Scotland.
Under the UK government plans, search and rescue operations will be provided by contracted civilian crews. The procurement process for a contract lasting about 10 years has started.
Search and rescue is currently provided jointly by the Ministry of Defence (MoD).
It operates a fleet of Sea King helicopters from eight military bases, with a further four civilian bases operated under contract to the Maritime and Coastguard Agency (MCA).
The new arrangements would see the end of military involvement in a dedicated helicopter search and rescue service.
The UK government said the move would allow the military to focus their activity on front line operations and enable the MoD to meet its previously announced intention to retire its fleet of Sea Kings by March 2016.
In her written statement, Ms Greening said the Royal Navy and the RAF crews had shown great dedication and professionalism.
She said: "Looking forward, we are confident that, building on nearly 30 years of civilian service provided under contract to the MCA, a fully-civilian service will be able to maintain the same standards in the future."
Shipping Minister Mike Penning said the UK would be getting a new fleet of faster and more modern search and rescue helicopters.