Attempts to topple Duke of Sutherland statue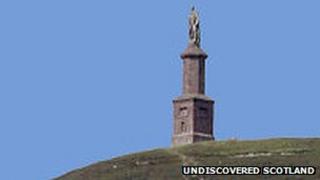 New attempts have been made to topple a memorial dedicated to a duke blamed for some of the most notorious of the 19th Century Highland Clearances.
George Granville Leveson-Gower, the first Duke of Sutherland, had families moved from his Highlands estate to make way for sheep production.
An attempt was made to dynamite the statue near Golspie in 1994.
Police have appealed for information after stone on its plinth was found to have been recently damaged, or removed.
Northern Constabulary said tools would have been used in the latest attempts to vandalise the site.
The memorial was built on the summit of Beinn a' Bhragaidh following the duke's death in 1833.
With its plinth and statue, the monument stands at more than 30m (100ft) in height and is visible from several miles away.
Known locally as The Mannie, some local people believe the statue should remain as a reminder to what happened in Sutherland during the clearances.
'Part of history'
One local resident, Alan Barclay, said: "You will find very few people who want it taken away.
"It is part of history. If you take away history nobody will ask questions.
"If he stays there people will ask what it is and then hear what happened here during the Highland Clearances."
Mr Barclay said people opposed to the memorial were "hell-bent" on seeing it pulled down.
Hillwalkers George and Karen McGowan, who regularly ascend Beinn a' Bhragaidh, believe damage has been done over the last six months.
Mr McGowan said: "Over the summer we noticed it first.
"There was damage three to four weeks ago and since then some more."
Sgt Keith Robb, of Northern Constabulary, said anyone with information about the vandalism should contact police.
He said: "This seems to be more sustained vandalism to the statue.
"Tools would have had to have been involved."
Starting in the late 18th Century and running into the 19th Century, the clearances saw townships occupied by generations of families cleared to make way for large-scale sheep farming and the rearing of deer.
Landowners were seeking to "improve" their estates in line with the industrial revolution.
Their hope was to make more capital from the land by running shooting estates, or starting industrial-scale livestock farming.
In some cases people who had lived on the land for generations left voluntarily, while others were forcibly evicted and their homes burned and demolished.
A bronze statue called The Exiles recalling the families cleared from Sutherland stands at the mouth of Strath of Kildonan.
'Psychic wounds'
Granville Leveson-Gower, a millionaire, was an MP from 1778-1784 and 1787-1798, before later becoming a British ambassador in Paris.
In 1785 he married Elizabeth, Countess of Sutherland.
The land they controlled represented the largest private estate in Europe at that time.
According to Highland Council's history and culture website Am Baile, the duke was horrified by the living conditions of the people of inland Sutherland and believed the land could not sustain them in the long term.
He began to resettle thousands of families along the Sutherland coast to make way for sheep on the newly-cleared land.
In his book The Highland Clearances, Prof Eric Richards said the resettling of large numbers of people in a relatively short space of time caused dislocation, "psychic wounds" and a "sense of wrong" that was passed down generations.
He said the Sutherland clearances were considered the most dramatic and best known of removals of families from land across the Highlands and Islands.