Work starts on Dounreay low-level waste store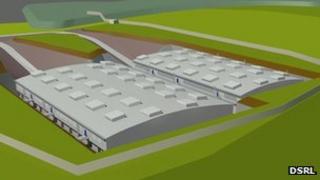 Work has started on constructing a store for up to 240,000 tonnes of low-level radioactive waste at the Dounreay nuclear site in Caithness.
The Nuclear Decommissioning Authority (NDA) is spending £100m building the facility and dealing with the waste.
Graham Construction will build the first two of up to six vaults. Each vault will be the size of a football pitch and 20m (65ft) deep.
The store will later be covered with earth and landscaped.
The rubbish includes paper, rags, tools, glass, concrete and clothing contaminated by radioactivity.
Once inside the store it will be monitored for 300 years. After that period of time the radioactivity will have decayed by 95%.
Rob Gibson, SNP MSP for Caithness, Sutherland and Ross, was due to cut the first turf at the site next to the nuclear plant, which is being demolished.
Shipping plan
A small number of large heavily-shielded sheds containing about 20,000 tonnes of more highly radioactive waste could also be built at Dounreay.
About 100 tonnes of fuel still at the site - material that could be used in future electricity production - is expected to be moved to another nuclear plant for reprocessing from next year.
Over the course of three to four years, more than 150 tonnes of intermediate level waste is also to leave Dounreay going to a storage site in Belgium.
The material will be shipped by sea as part of a long standing inter-government agreement signed when highly enriched nuclear fuel from all over the world was reprocessed at Dounreay.
The material is being collected by Belgian contractors.
A vessel has arrived to take the first of about 20 shipments.