Dog attack accused 'howled like a wolf'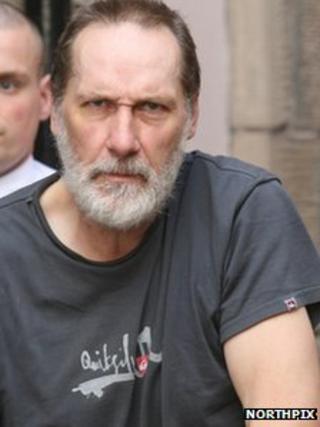 A man accused of allowing his pets to attack another dog which later died has been jailed for 10 months and banned from keeping animals for life.
Andrew Hammond, 52, of no fixed address, denied a series of charges which included assaulting four police officers at Lochcarron, in Wester Ross.
A police officer told Dingwall Sheriff Court that Hammond "howled" as if calling his dogs when he was detained.
The dogs will not but destroyed but are to be re-homed.
Hammond was found guilty under the Dangerous Dogs Act of owning three German shepherds which allegedly attacked and injured a Labrador at Lochcarron on 16 September so severely that it later died.
He was also found guilty of assault and breach of the peace.
Hammond was acquitted of another charge involving the dogs repeatedly biting and seriously injuring a border collie in August.
He was also found not proven of obstructing police officers in the execution of their duty in August by locking himself in a vehicle.
PC Glenn Tucker who had gone to Hammond's caravan to detain him in September, told the court of Hammond's howling.
The officer said: "He was making shrieking and howling noises, as you would expect a wolf to howl.
"I understand that he was maybe calling his dogs."
Sheriff John Halley had to go to the court's cells to deliver his sentence because Hammond refused to be taken to the dock.
The sheriff told him: "You were an owner of dogs which were dangerous under your control and allowed another dog to be attacked and killed.
"There is no alternative to custody.
"You also assaulted a WPC and I view this as a very serious offence."
Animal welfare charity the Scottish SPCA told the court in a letter that Hammond was not fit to look after dogs.