Deer most recognised Scottish animal, survey finds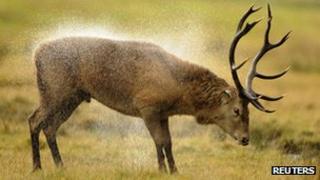 Deer are the type of wildlife the public associate most with Scotland, according to a survey commissioned by Scottish Natural Heritage (SNH).
Consultants interviewed 1,055 people to gather views on species, habitats and management of wildlife.
The results showed 73% of respondents associated deer with Scotland, 71% did so in a similar survey last year.
The latest survey also reported 27% associated golden eagles with Scotland, 26% grouse and 25% red squirrels.
Of respondents who expressed concern about threats to wildlife most, 37%, were worried about the fate of red squirrels.
Deer were the type of animal respondents were second most concerned about.
Because of SNH's role in managing deer, the survey asked those worried about deer what they considered the greatest threat to the species.
Most, 55%, said it was hunting.
The majority of the people surveyed believed wildlife was managed in the best interests of Scotland's people and many supported the reintroduction of species.
Wildlife brought back to Scotland have included red kites, white tailed sea eagles and beavers.
However, 59 respondents who disagreed with reintroductions believed the programmes interfered with nature, or said money should not be spent on them in the current financial climate.