House at Inverness hospital offered to baby parents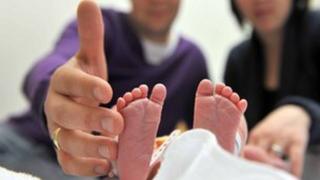 A two-bedroomed house on the site of the Highlands' biggest hospital is being offered to parents of babies requiring specialist care.
Previously, it was not always possible to accommodate the fathers of newborns in Raigmore Hospital's special care baby unit (SCBU).
NHS Highland said the house on the Inverness site could take two couples at a time.
The property has a double bedroom and one twin bedroom.
Couples share a shower room, kitchen and lounge.
Kay Yeldham, clinical lead for SCBU, said mothers and fathers would be able to stay at the house free of charge.
She said: "Accommodation has normally been provided in Kyle Court, which is the patient lodge also in the grounds of the hospital.
"However, we have recently refurbished one of the houses owned by NHS Highland on the Raigmore site and it has already been used by mothers whose babies were in the unit."
Two mothers have already used the property.
Karen Underwood, hotel services manager at Raigmore, said: "The patient lodge was exceptionally busy during last summer and as a favour, we asked two of the mums staying with us if they would mind sharing a house.
"The feedback was excellent and between the Raigmore Accommodation Department and SCBU, it was agreed that the house should be refurbished and used for this purpose permanently."
Money from the SCBU's endowments fund, which relies on donations made to the unit, paid for the revamp.