New ideas for Scottish university's 'isolated' students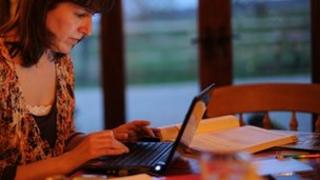 New initiatives are to be offered to university students studying in remote areas of Scotland after some said they felt isolated from their peers.
The University of the Highlands and Islands (UHI) offers a range of distance learning courses.
Some studying the courses told UHI's latest student survey they felt isolated and lacking in peer support.
In response to the feedback, student leaders and staff are working on new projects to add to those available now.
The survey results have been published in the latest edition of UHI's online student newsletter The Network.
Of the university's 6,642 students in Argyll, the Highlands, Western and Northern isles, Moray and Perth, 1,087 responded to the survey.
In a report presenting the results, UHI said that the overall feedback had been positive.
The results suggested the majority were happy with their work, their tutors and felt stimulated and that their ideas were valued.
UHI said: "Students appear to be satisfied with their course, their support and especially the commitment and enthusiasm shown by staff."
The university acknowledged feedback from some who said a lack of a student community had a negative impact on their studies.
UHI said: "As distance learning students, some respondents felt isolated and lacking in peer support."
A spokesman told the BBC News Scotland website that new initiatives could be available in January following discussions that started two weeks ago.
He said these would build on existing projects, such as the university's Red Button enquiry section on its website, forums, chat rooms and also clubs and field trips organised by UHI Students' Association.
One association leader has held an open surgery on Facebook which invited students to raise issues and ask questions.
Other initiatives have included visits to art galleries in Glasgow and, for one marine biologist, a study trip to South Africa to research great white sharks.
The UHI spokesman said: "Some of our students are carrying out their studies in some of the remotest parts of western Europe.
"Many doing the distance learning courses are not your atypical university students.
"Most are over 25, are studying part-time with work, families and other commitments and don't have time for other activities."
But he added the university had a duty to provide a "social experience" to students who wanted it.