UK trailer released for Highlands-set Disney/Pixar film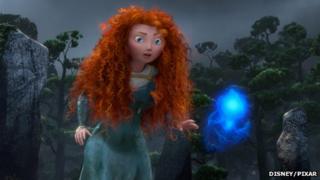 A full-length UK trailer has been released for Disney/Pixar's Highlands-set animated film Brave.
Several of the characters are voiced by Scots, including Billy Connolly, Kevin McKidd and Craig Ferguson.
Kelly Macdonald provides the voice for the main character, a princess called Merida, and Robbie Coltrane voices a lord called Dingwall.
Directed by Mark Andrews and Brenda Chapman, Brave is to be released on 17 August 2012.
Formerly called The Bear and the Bow, the film follows Merida, an impetuous girl who defies an age-old custom and inadvertently unleashes chaos, forcing her to discover the meaning of true bravery before it is too late.
Brave follows this year's release of an animated short about the Loch Ness Monster that was attached to Disney's latest Winnie the Pooh film.
Disney said The Ballad of Nessie was set in the "bonny blue Highlands" and saw the monster's home targeted by a "greedy land developer" called MacFroogle.