Scotland's common grazing 'a national asset'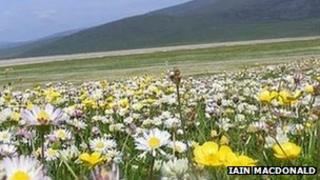 More than a million acres of common grazing available in Scotland should be treated as a national asset, according to an author of a new report.
The land is used by crofters in the Highlands, Western Isles, Argyll and Shetland for raising cattle and sheep.
Gwyn Jones, the main author of the report, said the importance of the land needed to be clearly recognised by policy makers.
Local authorities and Scottish Natural Heritage helped to fund the research.
The report was published by European Forum on Nature Conservation and Pastoralism and launched at the Crofters Commission Assessors conference in Inverness.
The theme of the two day conference is The Crisis on Common Grazings.
Mr Jones said difficulties for crofters accessing funding through the Common Agricultural Policy had to be removed.
He also said the future shape of the Rural Development Programme, European funding matched by Scottish government funds, should make it easier for crofters to access support.