Calanais stones in Liverpool band Ladytron's new video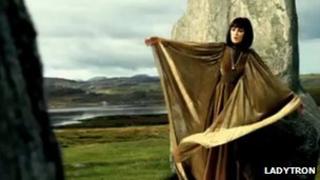 A 5,000-year-old site on the Western Isles has provided the backdrop for a new music video by Liverpool electronic pop band Ladytron.
Scenes for the video to the song Mirage were shot at Calanais Standing Stones on the west coast of Lewis.
The stones are a major draw for tourists to the islands.
Formed in 1999, Ladytron consists of Helen Marnie, Mira Aroyo, Daniel Hunt and Reuben Wu. The group is on a tour of Brazil and Chile.
At Calanais, the main stone complex contains about 50 stones in a cross-shaped setting.
An inner circle is made up of 13 stones with the tallest reaching 4m (13ft) in height.