Criticism makes Hi-Arts seem like KGB, director says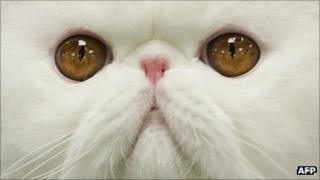 A playwright's criticism of an arts organisation gave the impression that it was "some sort of arts version of the KGB", its director has said.
Robert Livingston, of Hi-Arts, was responding to George Gunn's claims that the demise of theatre in the Highlands had been met with "complacency".
Gunn said Hi-arts should do more to support local theatre.
Mr Livingston said Hi-Arts had brought in more than £1m to local companies and theatre practitioners.
His full response has been published in the Scottish Review where an article by Thurso-based Gunn had earlier appeared.
The poet and playwright said Hi-Arts' control of funding for arts in the Highlands and Islands had contributed directly to local theatre's "present state of malaise".
Mr Livingston said his organisation had been portrayed as "some sort of arts version" of the Russian security service, the KGB.
The director said he also felt he came across in Gunn's piece like cat-owning James Bond villain Blofeld.
Mr Livingston added: "Not exactly a realistic picture, though it is true that I own a white cat."
'Constant struggle'
In his article, Mr Livingston said Hi-Arts did not control funding attracted to the area and that Gunn's Grey Coast Theatre, which folded last year, had benefited from the funds in the past.
Mr Livingston wrote: "George is absolutely on the money about the constant struggle to argue for the validity of theatre made in the Highlands.
"That is what Hi-Arts has been doing for the last 15 years and more.
"George considers our efforts a failure. That depends on your definition of 'failure'. In the past decade Hi-Arts has directly brought over £1m to companies and theatre practitioners based in the Highlands and Islands."
By coincidence, Hi-Arts has been working Highlands and Islands Enterprise Caithness on a cultural tourism event for the end of this month.
Gunn has written more than 20 plays, including for radio, and ran the Grey Coast Theatre Company until it folded in 2010 due to a lack of funds.
In his article for the Scottish Review, he expressed his dismay at the collapse of theatre companies including a national Gaelic language theatre group and Theatre Hebrides.