Jamesina Mackenzie FAI hears bed sore 'rotted' to bone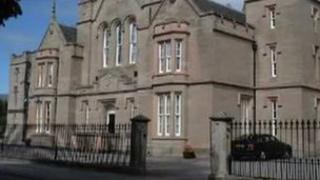 A care home resident had a bed sore which had rotted flesh down to a bone, a fatal accident inquiry (FAI) into the 87-year-old's death has heard.
Retired vet Jamesina Mackenzie, who had been a staying at Wyvis House in Dingwall, died at Invergordon's county hospital in May 2009.
Nursing staff at the hospital alerted police who investigated the care home.
Dr Rosyln Rankin told the inquiry the cause of death was infection from pressure sores.
The consultant pathologist at Raigmore Hospital in Inverness said: "If her sores had been treated earlier, this lady could have lived for many more years.
"They are caused by prolonged pressure on bony parts of the body incurred from lying in bed, restricting the blood flow to those areas and causing decay.
"They are avoidable."
Dr Rankin went on to tell the FAI: "One ulcer had gone through to the bone and you could see the femoral cap.
"When this wound was being dressed, you would have been able to see the hip joint working."
The first day of the inquiry at Dingwall Sheriff Court also heard from Ms Mackenzie's nephew Murdoch MacDonald, 61, from Evanton, Easter Ross.
He said his aunt had worked abroad before later moving to London, then Perth, before moving to the Highlands to be closer to her family.
He said: "She was lucid, very sharp and mobile - a very independent woman.
"But when she came up north, she wasn't fit enough for independent living and she went into the Wyvis care home in December 2008.
Mr MacDonald told the inquiry how he and his wife, a former hospital ward sister, became increasingly concerned about her deteriorating health.
He asked a GP that she be moved to the local hospital.
Mr MacDonald said: "At first the request was refused because we were told my aunt was dying and it was better to leave her where she was.
"However, I wasn't happy with that and I asked another doctor strongly that she be moved to Invergordon.
"She was, but was pretty much unconscious all the time she was there. It was then that we were told that her pressure sores were some of the worst the staff had ever seen and that her prognosis was bleak."
Following her death, Mr MacDonald said he wrote to the Care Commission about the care home.
The FAI before Sheriff Alistair MacFadyen continues.