Number 4 Gully marker on Ben Nevis vandalised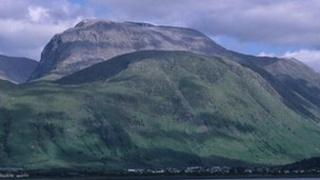 A metal post at the top of a popular climbing route on Ben Nevis was pulled out of the ground and thrown into the gully it had marked.
The John Muir Trust, which manages the mountain, described it as "an act of sheer vandalism".
The landscape conservation charity had been consulting with climbers about removing the post as part of a wider clean up of cairns and markers.
Called the Number 4 Gully Marker, it had been in place for several years.
Some climbers believed the post on the on the summit plateau of Ben Nevis was helpful in identifying the route in bad weather.
The trust has been consulting with the Mountaineering Council of Scotland's safety committee and Lochaber Mountain Rescue Team on a plan to remove it next year.
It was thought the marker had been removed in the past few days before a climber put it back in place.
In a statement the trust said: "This is an act of sheer vandalism which we condemn in the strongest possible terms.
"The marker was the subject of a consultation to determine if it and an abseil post on the lip of Coire Leis should be removed.
"Any work would have taken place next summer, after anyone with an interest had been given the chance to express their opinion."