Ski resorts bring in Hobbit Houses and new lifts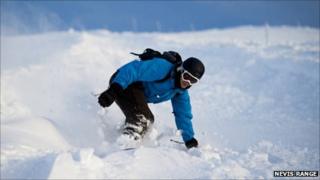 Scotland's five ski centres have taken measures to attract more custom once the new winter season starts.
Last year ski-ing and snowboarding started early - on 13 November.
This year CairnGorm, Glencoe, Glenshee, Nevis Range and The Lecht are still waiting for heavy snowfalls so they can open runs.
Among new moves made by the centres ahead of the snow have been freezing or cutting prices and new holiday accommodation called Hobbit Houses.
Glencoe plans to construct 10 tube-like "Hobbit" bunk houses into a landscaped area and also to offer camping space and a shower block.
A beginners' ski tow, new ski school and a reduced price for the adult lift pass midweek have also been added.
The resort also plans to use a snow-making machine so it can open in mid December.
At CairnGorm, a tunnel entrance for its funicular railway will be heated to help speed up de-icing of the hillside rail system.
The centre said it had also made improvements that would smooth flows of people at its hire and ticket area.
Glenshee has a new chairlift for its Cairnwell area and a larger beginners' area along with buying 200 new sets of hire skis and new snow fencing.
Nevis Range has increased its equipment hire, added an online equipment booking and snowsports school enquiries service and built an area for training in the use of avalanche transceivers.
At The Lecht, a new snowboard area and rails have been added.
It will also put covers over its Magic Carpet conveyor belt-style ski tow when not in use so it can be opened more quickly in mornings.
Last season, CairnGorm, Glencoe, Glenshee, Nevis Range and The Lecht were able to open early following heavy snowfalls in November and December.
Glencoe opened before Christmas for the first time in 10 years.
The Scottish Snowsports Strategic Review published earlier this year estimated that snowsports in Scotland generated an average £30m a year for the economy and supported 634 jobs directly.
Heather Negus, of Ski Scotland, said all the centres had been working hard to prepare for the new season.
She said: "Last winter the numbers of visitors were about 290,000 across the five resorts, which was slightly less than the previous year when there were about 375,000 - but two years ago that figure was about the best for 14 years.
"We are absolutely looking forward to this year and hope it is as good as last year, if not as good as two years ago."
Glencoe's Andy Meldrum said the centre should open on the weekend of 17 December where snow had fallen from the sky or not.
He said: "We plan with our TechnoAlpin snow cannon to make enough snow prior to this date to ensure that we have a covering of snow on our sledging area and a beginners' area.
"If the snow arrives earlier in December we will of course open as soon as we have enough snow."