RAF helicopter guidelines 'essential' for hill walkers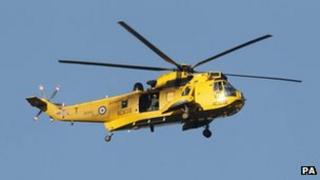 Climbers and walkers should learn how to work with RAF rescue helicopters, a mountains body has said.
The Mountaineering Council of Scotland (MCofS) said guidance for civilian rescuers was "essential reading". It hopes to bring them to wider attention.
Written by RAF winchman paramedic Duncan Tripp, the advice has recently been updated with new information.
It includes tips on how to safely approach a landed helicopter with a casualty.
The MCofS has highlighted the guidelines on its website.
Extra information has been added to help explain what helicopter crews need to know from rescuers and their procedures once they arrive at the scene of an incident.
The advice focuses on the RAF, but could be useful in rescues involving Royal Navy and Maritime and Coastguard Agency helicopter crews and air ambulances.
MCofS's mountain safety advisor Heather Morning said: "Chances are if you spend enough time in the hills, you will be directly or indirectly involved in an incident on the hill which involves the use of an RAF Sea King helicopter.
"It goes without saying that helicopters can be dangerous if correct protocol is either unknown or not carried out.
"These newly published guidelines from the RAF should be an essential read for all hill walkers, mountaineers and climbers."