Park committee votes against Boat of Garten plan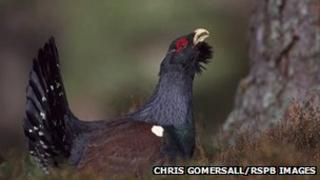 The Cairngorms National Park Authority's planning committee has voted 11 to five against plans for 72 homes at woodland in Boat of Garten.
The committee had deferred making a decision on Davall Development's proposals in January.
The firm was asked then to come back with measures to reduce the project's impact on natural habitats.
Park officials said the revised plans still posed a threat to rare wildlife such as capercaillie.
They had recommended that the planning committee refuse the application.
In a report, park planning officers said they were aware of the strength of feeling in Boat of Garten about the need for more affordable housing.
If the park board follows their recommendation to throw out the housing plans, the officials said they would meet to come up with alternative plans to meet the village's need for new homes.
Alison Fielding, vice chairwoman of Boat of Garten Community Council, said new housing was needed in the village.
Ahead of the planning committee meeting she said: "We know of families over the last few months who have been obliged to move to other villages because there has been nothing to offer them here.
"We are one of two villages in the national park which has no housing allocation area for building.
"That is simply not sustainable and unfair."
Scottish Natural Heritage (SNH) raised concerns that not enough measures will be in place to prevent the planned development having an impact on habitats.
Area operational manager Debbie Green said ahead of the meeting: "It is being estimated by the applicants that it will increase the population of the village by around a third.
"That's going to be a substantial increase in people going for walks, walking their dogs and taking recreation in the woods.
"That is a key aspect we are concerned about."