Greenpeace boat capsizes in protest off Western Isles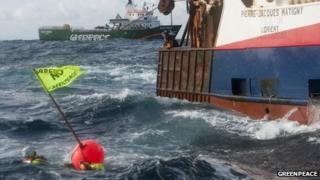 Greenpeace campaigners had to be rescued by their colleagues after their inflatable boat capsized during a protest off the Western Isles.
The protest also saw activists intentionally go into the water to place themselves in front of a French deep sea trawler.
Greenpeace said it was trying to protect deep sea cold water coral.
The dingy overturned after members of its crew grabbed on to cables at the back of the trawler.
No one was injured and the activists refused help from the fishermen.
The Greenpeace team has based itself in Stornoway on Lewis to target deep sea trawlers.