National Trust for Scotland chief sets out 'nightmare'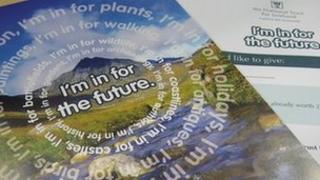 The National Trust for Scotland's chief executive has set out a "nightmare scenario" in an appeal for fresh donations from trust members.
Kate Mavor said historic properties such as Culzean Castle in Ayrshire would become crumbling graffiti covered hulks if more money was not raised.
Members have been asked to make donations of at least £15 to the new I'm in it for the Future fund.
The appeal aims to raise £110,000 in a short time.
NTS oversees more than 100 sites, including Culloden Battlefield, Fyvie Castle, Georgian House, Harmony Garden, Killiecrankie and the islands of St Kilda.
It costs the charity £600,000 a year to carry out work to comply with legislation and £400,000 a year to buy tools, plants and pest controls, on top of money needed for restoration work.
Ms Mavor said: "In my letter I have painted a nightmare scenario in which a place like Culzean is allowed to fall into disrepair and eventually crumbles to a graffiti-ridden hulk, the memories, history and shared culture it represents lost forever.
"That has happened all too often in the past to all sorts of heritage properties.
"Even a small donation can prevent this prospect from becoming a reality."
Trust members have been sent a leaflet about the fund and a donation form along with Ms Mavor's letter.
In September, NTS said it would hold a series of local assemblies next year to help improve the running of the charity.
Results of a review published last year recommended changes were needed to make the trust "fit for purpose".
Following its AGM in Dundee, NTS chairman Sir Kenneth Calman said the organisation was "embracing change".
Local assemblies will be held across Scotland and would involve meetings between staff and communities.
The general income fund - the free reserves of the trust and which it considers its true measure of its financial health - increased to £13.4m from £8.5m.
NTS also reported that its membership rose from 306,000 to 308,000 in the past year.