Gang grew cannabis former US base near Thurso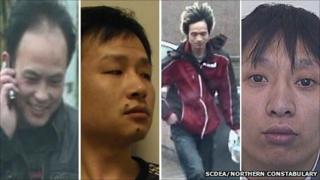 A police operation has led to the jailing of four men who grew cannabis at a former US naval base in Caithness.
Jiajie He, 30, of no fixed address, has been sentenced to two years and six months in prison for being concerned in the supply of illegal drugs.
His appearance at Perth Sheriff Court followed the earlier jailing of three other men, one of them from Ayrshire.
The Scottish Crime and Drug Enforcement Agency praised those involved in the operation.
It had worked jointly with Northern Constabulary on Operation Solstice.
The three other men were given prison sentences at Inverness Sheriff Court in August for their part in the cannabis cultivation.
Wan Yue Lin, 44, of New Cross, London, was jailed for four years and six months and Bo Chen, 26, of Kilbirnie, Ayrshire, for three years.
Ah Bing Zheng, 32, of no fixed address, was sentenced to three years.
In April 2010, Lin signed a lease agreement for the vacant former US naval base and paid a rent of £2,000 per month.
The police investigation revealed that before this date, regular enquiries had been received from the gang about leasing the property for storage and distribution on behalf of a food company.
After renting the site, Lin made regular visits to supply food to the cannabis farm's "gardener" Zheng.
Police observed Lin taking large suitcases to the base and later to an address in Wick where the cases were put in cars registered in Wales.
In February 2011, a car driven by He was stopped by police at The Triangle services on Dunkeld Road in Perth.
Officers recovered cannabis with an estimated value of £73,750.
The SCDEA and Northern Constabulary raided the former naval base and seized about 570 cannabis plants, worth a total of between £85,000 to £250,000.
Zheng was found at the site where he had been living in a small room.
Lin was later arrested in London and drug courier Chen in Kilbirnie.
Det Ch Supt Tony Mole, head of investigations at the SCDEA, said the gang was highly organised.
He added: "Every detail of their illegal enterprise was meticulously planned.
"Each member had their role to play, but they were equally concerned with maximising profits, regardless of the harms caused by these illegal enterprises and drug misuse."
Det Ch Insp Kenny Anderson, of Northern Constabulary, said: "We note the sentence handed out today to Jiajie He.
"One of the force's strategic priorities is the targeting of serious and organised crime."