Invergordon yard takeover 'secures' 60 jobs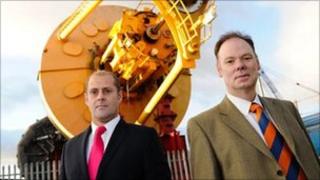 The new owners of a fabrication and construction site in Easter Ross has said they will be in competition with another newly taken over yard nearby.
Aberdeen and Invergordon-based Port Services Group has bought fabricator RBG's former complex in Invergordon.
PSG said its purchase secured the future of 60 jobs.
The takeover follows Global Energy Group's purchase of the Nigg fabrication yard, also in Easter Ross, last month.
Under a new brand name, Ifab, work at PSG's six acre (two hectare) site will supply the oil, gas and renewables markets.
First Minister Alex Salmond has welcomed the takeover.
PSG said there was potential for the creation of a further 200 jobs at the site.
Company chairman Les Clark said the complex was a "unique asset".
He told BBC Radio Scotland: "Nigg has got potential to be a deep water facility, but they have got to open the dock gates.
"Invergordon, in my opinion, is a much better marine facility.
"I think Invergordon will be in competition with Nigg because effectively they are going to be trying to do the same type of work.
"Perhaps that is a healthy position to be in."
Mr Clark said there was enough work on the horizon to keep both sites busy.
Managing director Steve Clark added: "We are already exploring new contracts and actively recruiting new engineers, and we see the market potential to eventually more than quadruple its workforce, attracting major new economic activity to the region."
Mr Salmond said said ambitious and successful Highland businesses such as PSG were expand, diversify and generate local employment.
He added: "I congratulate the company in making this significant investment and wish the management and workforce continued success in the future."