Filming for new Scarlett Johansson film to stop traffic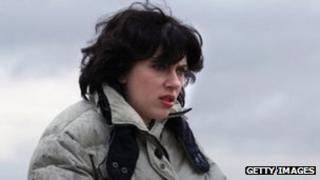 Hollywood actress Scarlett Johansson is stopping the traffic on one of Scotland's trunk roads as she films scenes for her new movie.
Transport Scotland has granted permission for filming south of Loch Ba on the A82 in Glencoe until Thursday.
The government agency said the road would be closed for 10 minute periods to allow queuing traffic to clear before the next closure was made.
The film Under the Skin is based on a novel of the same name by Michel Faber.
Running from central Scotland to Inverness, the A82 is a key route in the Highlands.
It was understood that the section of road would be closed for about 20 times on Wednesday and 10 on Thursday.
Stewart Maclean, of the A82 Partnership which campaigns for improvements to the route, said the filming was welcome.
However, he said local communities had not been consulted by Transport Scotland on the temporary closures.
Mr Maclean told BBC Radio Scotland that they came on top of roadworks and other disruption.
He said: "We have always been fantastic hosts of film companies in Lochaber.
"What we are highlighting is decisions made by bureaucrats sitting in Glasgow without any consultation."
Transport Scotland said it had consulted with the police and the film's production company before agreeing to the closures.
It said advance notice of the filming was placed in the Oban Times newspaper on 3 November.
In a statement, Transport Scotland said: "Wider consultation with local communities along the A82 was not considered necessary due to the minimal delays and low traffic flows in this particular area.
"The police will hold the traffic out of shot, and then release it to clear any backlog before the next 10 minute closure.
"Variable message signs will be set up in advance of the works advising motorists of possible 10 minute delays."